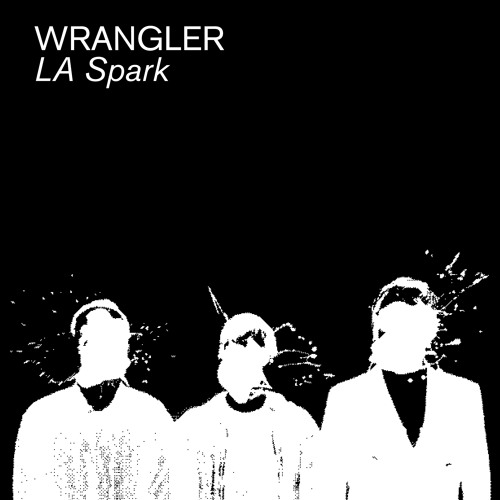 Add three electronic wizards together and what do you get? A musical cacophony that is the new Wrangler album 'LA Spark'. Messrs Stephen Mallinder (Cabaret Voltaire), Benge (The Maths) and Phil Winter (Tunng) are those responsible for igniting this eight track record. To be honest it's everything you'd expect from these people and more. It's organically electronic with Benge using his beloved analogue instruments to give it that rich texture throughout. Add to that the voice which served him so well Mr Mallinder guides this to be more than just another electronic album served to the masses.
This magnificent album begins with the 'Theme From Wrangler' which has the uncanny resemblance to John Carpenter's masterpiece 'Assault On Precinct 13'. Whilst as it slowly progresses you hear masked vocals in the background that manage to give it an eerie feel. 'Lava Land' is a more marketable piece of music with its percussive sounds which could pay homage to John Foxx's first solo outing back in 1979. The vocals here are more in line what the Cabs were doing around the same time. The title track is up next when we hear the words resonate from Mal's mouth, "we don't need this interaction...", but it's such a perfect one. The beat is a relentless high tempo and has your feet trying to keep in time with it. 'MUS IIC' starts of with an annoying recurring repeat of the song's name. But as the song beds in you find it be like a long-lost comfort blanket.
For me 'Space Age' is the real treat within the eight numbers on this album. Here the CV influence is immense, so much so it could sit as an to equal to 'Just Fascination'. Phil's attention to detail gives this piece some richness as each sound is crystal clear. The very catchy bass riff along with the bongo sounding beat shunts 'Harder' into the 'Trans-Europe Express' territory. 'New boy' Stephen's voice is very prominent and keeps the song on track. 'Modern World' is a strange one which draws in some very random sounds but you can't help move to its very addictive beat. It stops and starts with regular intervals bringing new audio's to the table. All good things come to an end but not before 'Peace & Love' gradually takes control of your speakers an instrumental that Chris Watson would surely be proud of. Albums like this appear once every so often, nurture its rich textures. 9/10 sublime.
ArtRocker Interview: