Shepherds Bush Empire is a traditional theatre building with all its balconies and private boxes, just the perfect venue for a British Electric Foundation (BEF) concert. Tonight I was with good friends to see musical friends of Martyn Ware perform songs live from all three BEF albums. Under Martyn's masterful leadership we were treated to a marvellous night of cover songs given his special touch. Proceedings predictably started off with his best friend, Heaven 17's Glenn Gregory who sang the ballad 'It Was A Very Good Year', demonstrating what a great voice he still has. This high standard had now been set for the rest of the night, it never faulted either.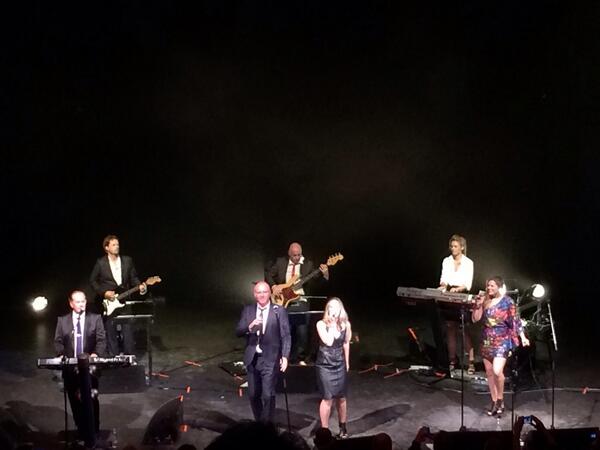 Tonight the first guest vocalist was Erasure's Andy Bell, who delivered two excellent songs. The first his take on 'Breathing' which really pulsated within the auditorium and followed by 'Love Of My Life'. Sarah-Jane Morris the female voice behind The Communards was next up and what a powerful voice she has. You'd certainly wouldn't want to mess with her in the slightest as she commanded the stage whilst singing 'Don't Wanna Know' and 'Family Affair'. For me one of the highlights was Glenn Gregory's homage to the late Billy MacKenzie with the reworking of 'Party Fears Two'. You could see the tears streaming from his eyes as he sung with such passion.
Throughout the night Martyn along with hand picked backing band contributed wonderfully to make this a special night for many reasons. The three ladies within their ranks were also called upon to sing too. Keyboardist Bernice Scott delivered the slowed down 'Picture This' to great applause. Whilst backing singer and actress Kelly Barnes showed her class with 'Co-Pilot To Pilot' and 'Just Walk In My Shoes'. Of course Heaven 17's backing vocalist Billie Godfrey already knew how to work the audience with a really powerful vocal display within superb arrangements for 'Smalltown Boy' and 'Free'. The relative unknown David J Roch championed by Martyn performed the song 'Same Love'. Apart from his good looks, I was reliably informed, he has a voice which I'm sure many more people will hopefully hear in the future. The sound in the auditorium was sumptuous.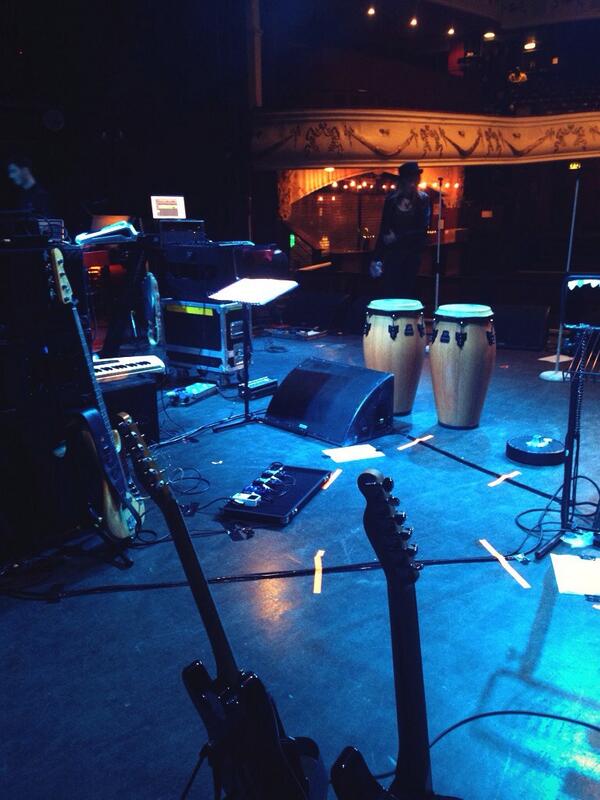 Green Gartside (Scritti Politti) now sporting a well-groomed beard sang in his own distinctive voice 'Didn't I Blow Your Mind This Time' and from the second BEF album 'I Don't Know Why I Love You'. On hearing him sing again I thought the airwaves need more of his songs aired. Another friend in the shape of Claudia Brucken took up the challenge with 'These Boots Were Made For Walking', she never disappoints. The last guest vocalist of the night was Kim Wilde and all dolled up. She was joined on stage by other Wilde family members and performed three numbers. 'Everytime I See You I Go Wild', 'There's A Ghost In My House' and a track she actually released 'You Keep Me Hanging On', a song recorded by Bernie Nolan for the debut BEF album way back in 1982.
The conclusion to the night was the return of Glenn to the microphone who did an outstanding take on Bowie's 'Boys Keep Swinging'. This was concluded by 'Temptation' in all it's full glory, the house just moved to this. With all the banter between musicians and the crowd, the quality of music and the friends with me, it made this one of those special nights. I was slightly surprised we didn't get an encore with all the singers together on stage, but I can't really complain. I was though saddened to hear Martyn say these shows, Sheffield the following night, were to be the last ever for BEF. But as someone else remarked on-line "…lets hope he changes his mind". What a night!
Other Highlights:
Thanks to Kristan LW for the uploaded videos