The godfather of Gothic rock returned to his home county to play live for the first time ever in Corby. Peter Murphy was the face of Bauhaus, a band whom I first live way back in 1980 in Northampton. Tonight he brought his show mid tour to the Zombie Hut for what  can only be described as a hot sweaty full-blooded night celebrating his legacy to music. Sure there was no Daniel Ash, David J or Kevin Haskins but Peter has surrounded himself with accomplished musicians that very evident tonight. There was plenty of familiar old faces though most were now devoid of hair and decked out in black, I wasn't I have to say. My mate, Paul won't be happy unless I mention the support, Eyes On Film, who gave us a good set.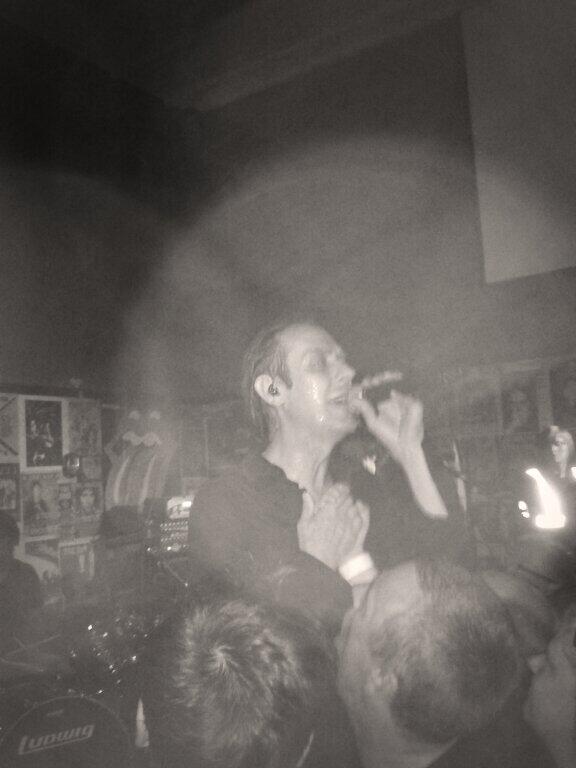 With no encores Peter Murphy started proceedings slowly with a couple of ballads that included 'King Volcano'. That was the only lull tonight as he then launched himself mercilessly into 'Double Dare' this was soon followed by such classics as 'In The Flat Field' and  'A God In An Alcove'. By this time the floor was full of drenched black attired bodies, as was the performers on stage. We got usual suspects 'Kick In The Eye', 'Ziggy Stardust', 'Bela Lugosi's Dead' and single version of 'Spirit'. Three songs stood for tonight they came in the shape of 'The Passion Of Lovers', delivered with such gusto. Then there was an absolute brilliant version close to the original 12″ mix of 'She's In Parties', the dub ending was something else. For me though 'Dark Entries' said it all for me tonight it was relentless in its delivery. Peter who maybe in his mid fifties was like an out of control spinning top, pumped up, guitar playing and also managed to work the audience into a frenzied state.
I can't leave without mentioning two more covers heard tonight as 'Telegram Sam' had the venue singing in unison and the show ending 'Transmission' that completed a welcome return to Northamptonshire. There were people in the crowd who weren't even born when Bauhaus first appeared on the map though I can safely say he's inspired a new generation. Thus the venue grows in stature with each iconic artist appearing here, all to packed houses. What it lacks in size it makes up for in atmosphere and the spirit that is Corby. At the end of the show the place was still buzzing as to what they just witnessed and that rubbed off on the band which was plain to see as he made time to stop and speak to paying audience as left the Zombie Hut.
Thanks to the video posters for the footage.