Today I have the privilege to ask some questions to one of my favourite vocalists. He's Neil Arthur one half of the duo electronic Blancmange along with Stephen Luscombe.They emerged on the music scene around the time of far more famous Stevo who was launching the Some Bizzare label. During the 80's they scored a series of hit singles embracing sounds from the Indian sub-continent and even the sounds of ABBA.
1.       It was great to see the name Blancmange reactivated in the last couple of the years. What was the pivotal point that made it all possible after such a long time? Who was the driving force to see it happen? We'd never said yes regarding working together before. So I told Stephen I had these songs and asked him over to my studio. It went on from there.
2.       Unlike a lot of bands who reformed you actually recorded a new album in the shape of the wonderful 'Blanc Burn', were these track around before the reformation or was it conceived after reforming?  I had some sketched out and some came along as we worked together.
3.       Hopefully Stephen is recovering well, how much of a blow was his illness on the eve of the tour? Were you close to pulling the live shows? Witnessing the Birmingham O2 Academy show, I have to say you all coped well. How is Stephen these days?  The main concern was for Stephen. Then after that once we put the contingency plan put into action, we got on with making it work. Stephen is doing okay, he is still under observation. That's good to know let's hope he's back soon.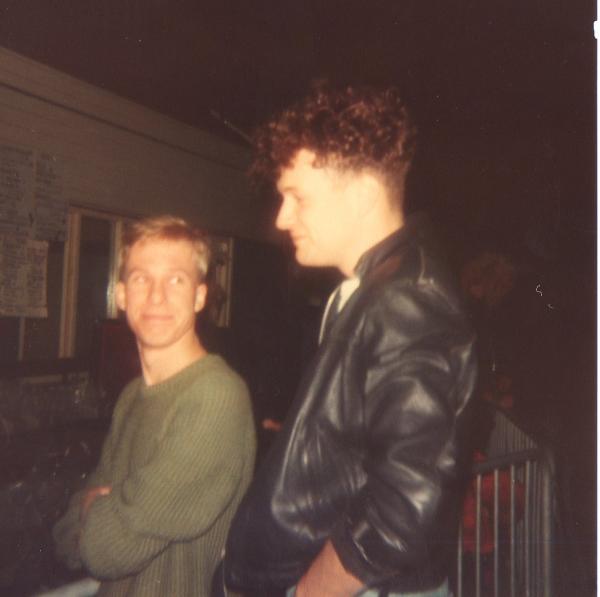 4.       I have mentioned the following to you, but many moons ago I was driving early in the morning in central London to set up a stall at a record fair at Russell Square and as looking for somewhere to park, I almost ploughed you down on your bike. During your career has there been any near life experiences?  I think when you get to 54 most people have had a couple. Mines are just your run of the mill – James Bond/Brook Bond moments!!!! ha ha!
5.       Recently we've had a definitive compilation album released compiled by yourselves. Was it an easy exercise to choose what to include? What do you wish you could have added? The songs were chosen by the fans and we added a number too. There were a couple the record company couldn't find. There's a track called "Iddy Biddy Creepy Crawly" and "Your Hills", but surely there's enough there? Oh I was happy with the selection and versions chosen too. Let's hope they come to light at some point.
6.       On that album there's a new track "Making Aeroplanes (Without Victoria)" this suggests there's more still in the cupboard. Is there enough for another new album? If not are there plans for another album?  There's more stuff yes. New material being finished now. Now this does excite me with the prospect of more material surfacing something in the near future hopefully.
7.       Playing live you've always had the banter with the audience which suggests you still love the live experience, have you any more plans to play live in the forthcoming year?  I try to absorb as much as I can when we perform and savour every minute of it.. I do really enjoy it, which wasn't always the case in the 80's.  I think there will be more live dates – yes. Must keep an eye out on your website then for these then.
8.       You did a very credible solo album 'Suitcase', did it feel strange releasing an album without Stephen? What did you learn from the experience?  No it didn't feel strange at all. I enjoyed making it. I'm still learning! I'll do another one day one time! Yes that's something else to look out for then, I thought there were some really good

9.       Going back to the heady days of the Some Bizarre time, I incidentally attended that Lyceum gig, £2.25 value for money or what? Did you consider yourself part of something then? Or did you see it as a means to an end?  We were always outsiders in many ways, hence the "maiden aunt of electronic music" tag given us by Daniel Miller. It certainly wasn't a means to an end as you say. I must admit your brand of electronic music always seemed to embrace other cultural strands of music, making it quite unique.
10.   Finally I often see you tweeting about your beloved Blackburn Rovers, this season it's bit like a soap opera. Surely plenty of fodder for material to write a song? How do you feel the team will end up come May?  Up the Rovers! I'm not sure if they have featured in a lyric yet. has to where they end up in may? Ewood Park I hope and still playing football, is all I can wish after the last season or 2! I can relate to the last two seasons experiencing problems with my club, Leicester City.
Many thanks again Neil, pass my best wishes to Stephen and hope he's back behind the keyboards soon. "Cheers. I'll pass on your best to Stephen". Well folks that was very interesting it seems we should be keeping an eye out for what's next with the Blancmange camp in 2013. You can also contact Neil and Blancmange via Twitter too.